Full Development
and digital product support
for your business
We create customized web services, mobile applications and modern design that take into account all aspects of the digital sphere



Web services, mobile applications,
design
Speakly
EDUCATION
LIVE Language Learning is an innovational language learning solution from Eastern Europe.
ABOUT PROJECT
ABOUT PROJECT
The service helps users to improve memorizing, writing & speaking skills learning new foreign languages. The service was developed as a web solution based on the existing language learning system that is already used for individual & group studies available everywhere in Europe – from Portugal to Finland.
http://www.speakly.me/
The technology stack
The technology stack of this project is:
Python/Django/DRF, PostreSQL DB Server, JSX/ReactJS/Redux/LESS, Facebook, API/Google API/Paypal API/Stripe API
Development
The project has been being developed for 9 months. The current result is the web-service we've launched, providing the customers with a user-friendly & efective web-interface that helps them learn foreign languages. The second stage of project development is in process now. It is creating mobile applications for iOS & Android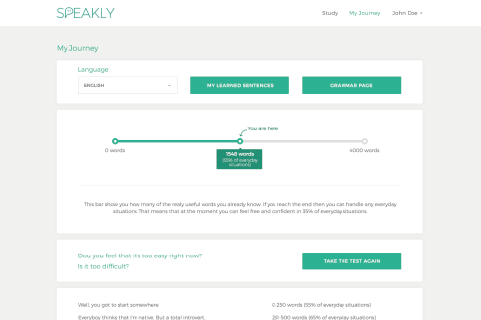 Description
SPEAKLY is a powerful language learning tool to help you maximize your potential and guide you through the process of acquiring a new language in the most efficient way. It's based on science and years of experience.